My fiancee and I are shopping around for catering companies for our wedding. As a marketer, I couldn't help but to pay more attention to their sales and marketing than to the actual pitches. Often I found myself thinking "this information should have been on their website" and "why are they telling us when they could be showing us?"
After our latest disaster of a meeting, I jotted down some catering marketing ideas for catering companies. I've elaborated on them and shared them here for you so that you can incorporate them into your catering marketing plan.
Here's all 8 catering marketing tips listed out. Continue reading for more details and examples on each marketing idea.
Communicate the benefits of your catering service online.
Show menu pricing and payment options online.
Share photos and videos of your work.
Share video clips of your catering company in action.
Use an online form to collect basic customer information.
Make sure your Google My Business locations are all setup and optimized.
Have a mobile responsive website that addresses your customers' needs.
Make your catering leads comfortable.
Have samples of your linens, tableware, and other goods that customers will touch at the catering service.
Create a "Press Kit" to give to your leads after a face to face meeting.
Send a handwritten thank you card to your customers after the event.
Featured catering photo by Kaboompics .com from Pexels


Catering Marketing Ideas for Your Business Website
Your website should be a tool to generate qualified leads. It seems like catering companies have a strategy to give users just enough information to get them to call or meet.
This can be a huge waste of your time because you will end up answering questions that should be answered online. Why manually qualify customers when you can make your website do it for you?
With that in mind, here are some ideas for marketing your catering website.


1. Communicate the benefits of your service online.
Planning a wedding is a stressful process. Many catering companies offer stress-reducing services like dining room setup and cleanup. Other perks may be serving the meal/appetizers or coordinating tables for a buffet. It's shocking how many catering companies include these types of benefits but don't say anything about them.
These benefits can used as your competitive advantages against other companies who offer the same features but do not market them.


2. Show menu pricing and payment options online.
You should show menu your pricing online so that you don't waste your time (or your customers' time) by meeting with prospects who cannot afford your catering pricing.
The catering companies we've met with so far usually have pre-made packages offered and then explain how we can mix and match options to customize packages. An idea might be to price your catering packages a la carte. You could even create an interactive page on your website for customers to build their dream package. This could also give your customers a price immediately instead of wasting time with manual calculations and emails.


3. Share photos and videos of your catering supplies and setups.
Your customers are interested in how your setup looks, especially your brides who want to coordinate the aesthetic of the venue. Some questions to answer for your customers online are:
What does the tableware look like?
What does the buffet look like?
How does the staff dress?
What do your appetizer/snack layouts look like?
These are just a few questions I could think of off the top of my head. As someone with a catering company, you already know all the questions your customers ask. Keep a list of them and make sure that your website answers all those questions, especially on the sales page. For the visual questions, have at least a photo.
For tableware selections, you could even make a gif from various colors/styles to showcase different options on your website or social media. Imagine something like the gif below except with each frame showing a different style/color of tableware settings.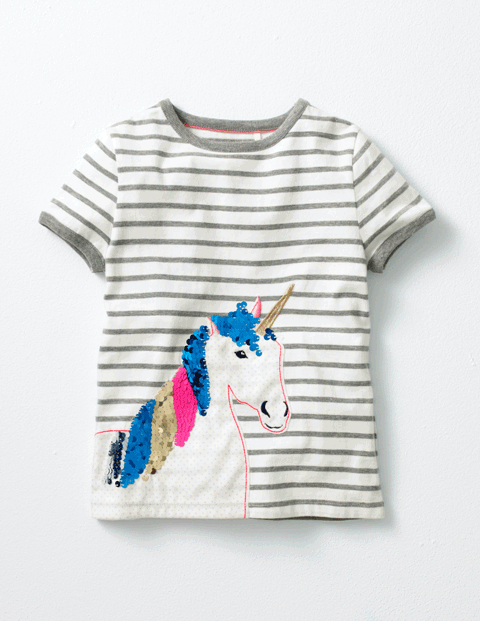 These photos are not only great for your website, but they could also be used for your social media posts too. You do have your brand name claimed on all of the major social media platforms like Pinterest, Facebook, Instagram, etc., right? If not, Namechk is an awesome tool that can help you find every platform where you can claim your business name (as well as a nice, juicy backlink to your website)!


4. Share video clips of your company in action.
Obviously you'll need permission from your catering customer to do this. Consider doing a free/discounted wedding catering service to a family member or friend in exchange for being able to film the entire service. You could coordinate with other wedding vendors on this and share the costs.
Chef by Design has a phenomenal example of this. Check it out!
You can use that video footage as "pillar content" to produce other content for your website and social media . That one video can become dozens of pieces of content if you use Gary Vaynerchuk's content model. The video would be proof of your service and quality. It could even be branded entertainment if you showed "behind the scenes" on all the value you add by taking stress off the bride and groom.


5. Use a nice online form to collect basic customer information.
Make this idea a part of your booking process for meetings with potential clients. It's 2019. There's no reason to pay an employee to read off a list of questions and write down answers for 15 minutes every time a lead walks in the door.
Instead, use your website (or better yet, booking software like Calendly which is what I use for people to book a free 30 minute consultation with me) to schedule your potential customers and get all their basic information. Bonus points if the catering lead can see if their event's date is available or not.


6. Make sure your Google My Business locations are all setup and optimized.
Your Google My Business (GMB) page is an essential piece of the local SEO puzzle. When you search on Google for local companies, the "map pack" of GMBs show up first in the search results. It's a great tool to capture those leads, earn reviews, engage with customers, and showcase your business.
I'm going to use a local Syracuse, NY example here and show you the search results for "catering companies" from my office: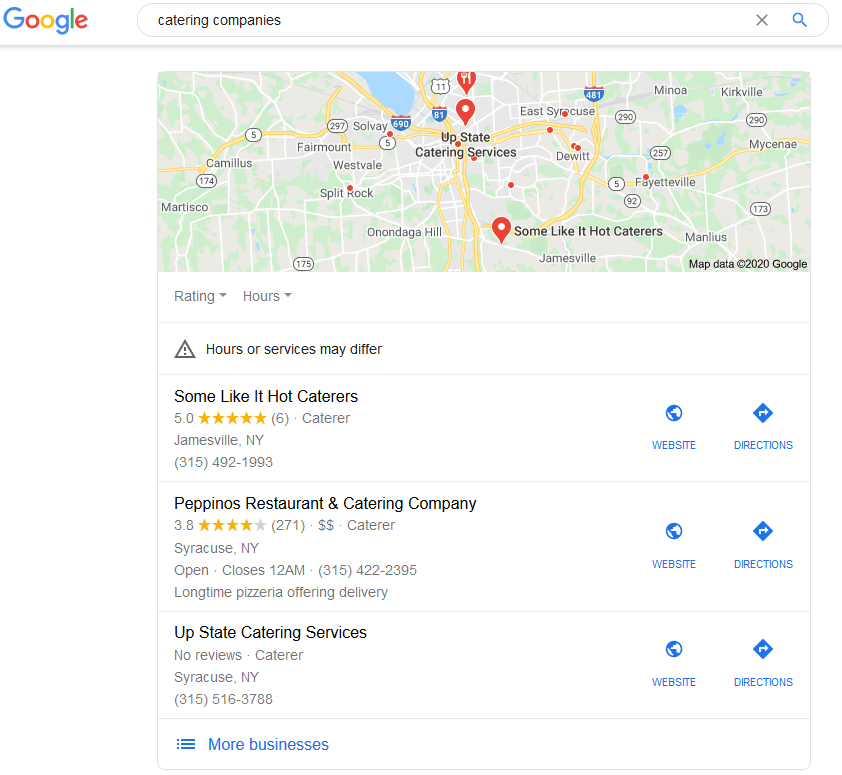 Some Like It Hot Caterers and Up State Catering Services are among the top 3 businesses that show up for me in the map pack from my office. Neither of their websites show up in the top 100 search results for catering (Peppinos is on page 2) and I would never see them if it wasn't for their GMBs! More on this later...
Getting your business to show up in those top 3 map pack spots is a tremendous advantage. It empowers the little guys like us to outrank huge websites like Yelp. So if you haven't claimed your GMB and fully filled out your listing, do so now! All you have to do is Google your business and, if it's not claimed, you will see something similar to the screenshot below: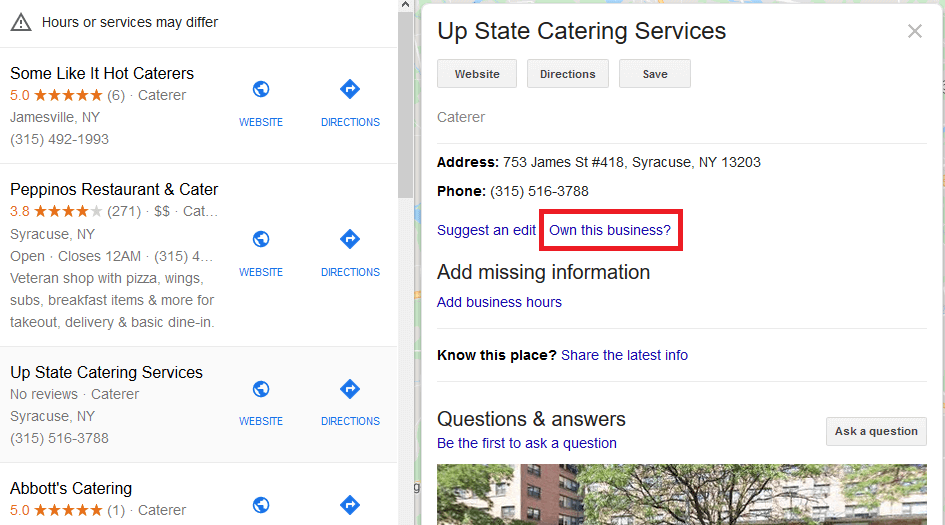 Hopefully they'll claim their business! Then they can fill in more details, like a nice photo of their storefront, their hours of operation, photos of their work, and much more. You can also seed GMB pages by asking your own question and then answering it. This allows you to use your GMB as a FAQs page as well to increase conversion rates.
If nothing else, please claim your GMB just to stop an underhanded competitor from marking your unclaimed business as permanently closed. Then when people search Google for your company (or any other term you'd show up for) they will think your business has shut down.


7. Have a mobile responsive website that addresses your customers' needs.
Many of your potential customers are researching for caterers on their phones. I've caught my fiancee researching from her phone even with her Macbook sitting on the coffee table in front of her. I've personally noticed myself doing some searches from my phone even when I'm at my office desk literally sitting at a computer.
In the previous tip, I explained the power of the GMB. Now if that search was made and I was looking for a restaurant, maybe I would just walk over. Or if it was something like a car insurance company maybe I would just call from the GMB (and never even look at the website). But if I was researching a caterer, I would go to their website and look at their catering menu, services, and pricing.
Your catering website should market your competitive advantages, your services, your menu, and your pricing to your customers. It should be easy to find and navigate. Being well designed is a bonus too.
Here's a live demo of a good catering website landing page using the Divi Theme (affiliate link). Full disclosure, I have a lifetime subscription with Elegant Themes and I love working with their theme to create websites.
What makes that demo a good example of a landing page is that it has everything a customer would want.
The first call to action shows the food and prompts visitors to view the menu.
Scrolling down provides information about the catering company.
The "What We Do" section is a great space to showcase your catering company's competitive advantages (the things that make you different and/or better than your competition).
There are menus and photographs of the food.
Then it's wrapped up with calls to action and additional trust-building factors like company statistics and testimonials.
Shameless plug: If you want help with your search engine optimization (SEO) or with creating a website for your catering business, please contact me. I offer free 30 minute consultations.


Marketing when Meeting Leads Face to Face
Once you qualified your lead online and meet face to face for the first time, you have a much higher likelihood of closing the sale. Here are some ideas that might help you drive your close rates even higher.


1. Make your new leads comfortable.
Have a private area to meet with your potential catering clients. Make sure it is clean and separate from a loud and distracting restaurant dining room. Offer them free drinks and maybe even an appetizer. Psychological studies show that giving something to someone for free creates an urge for the gift recipient to reciprocate.


2. Have samples of your linens, tableware, and other goods that customers will touch.
Too often caterers have went on and on describing the fancy disposable utensils and plates that they use. Instead of trying to describe it, just bring a few to the meeting so your customers can actually experience it.
The same is true for real glassware or other tableware options. Are your plates going to make the catering customers feel like they're at a BBQ, a college dining hall, or an elegant wedding?


3. Create a "Press Kit" (not just a business card) to give to your leads after a face to face meeting.
This is a great way to share photos of your work, menu options, case studies, testimonials, nutrition facts, pricing, packages, and so on. You can also include infographic-like "cheat sheets" of guides for choosing a caterer. Perhaps you can share marketing materials from other wedding vendors that you work with. Here's some inspiration to consider for your catering marketing.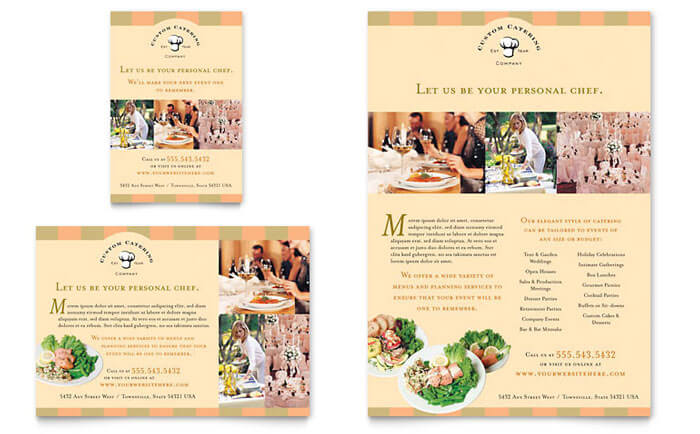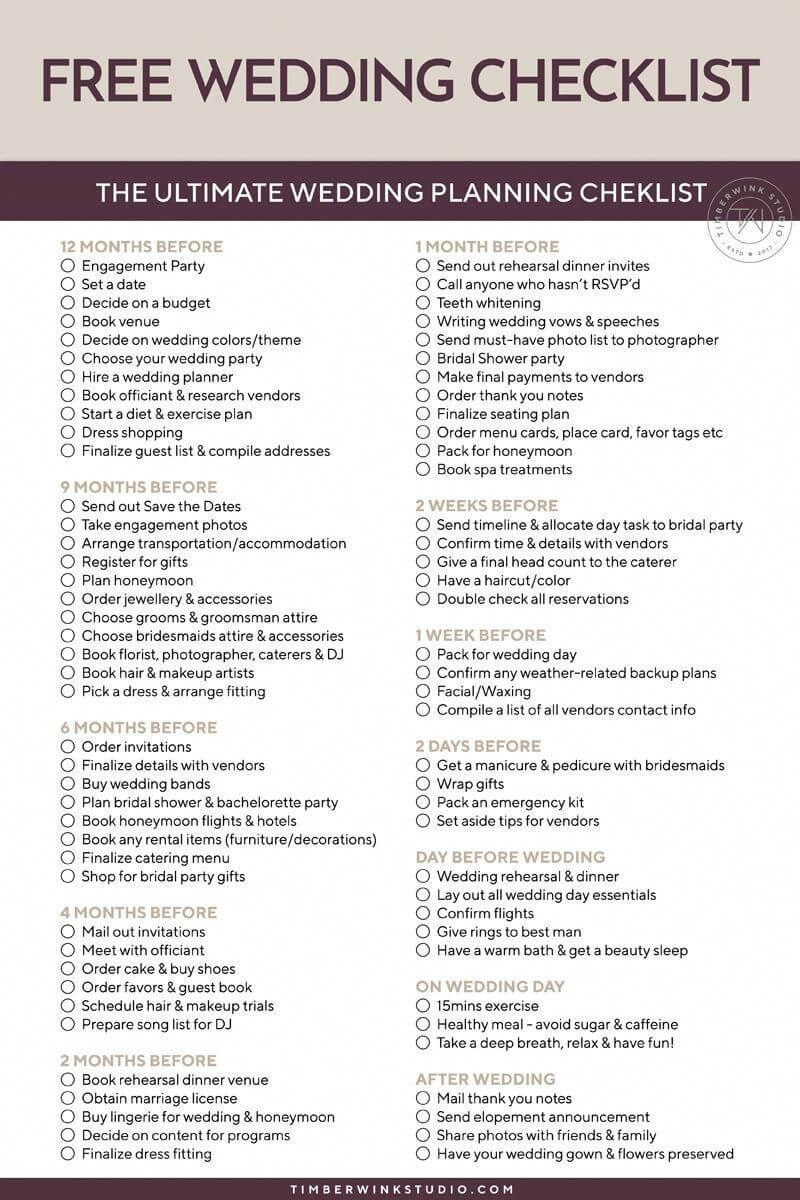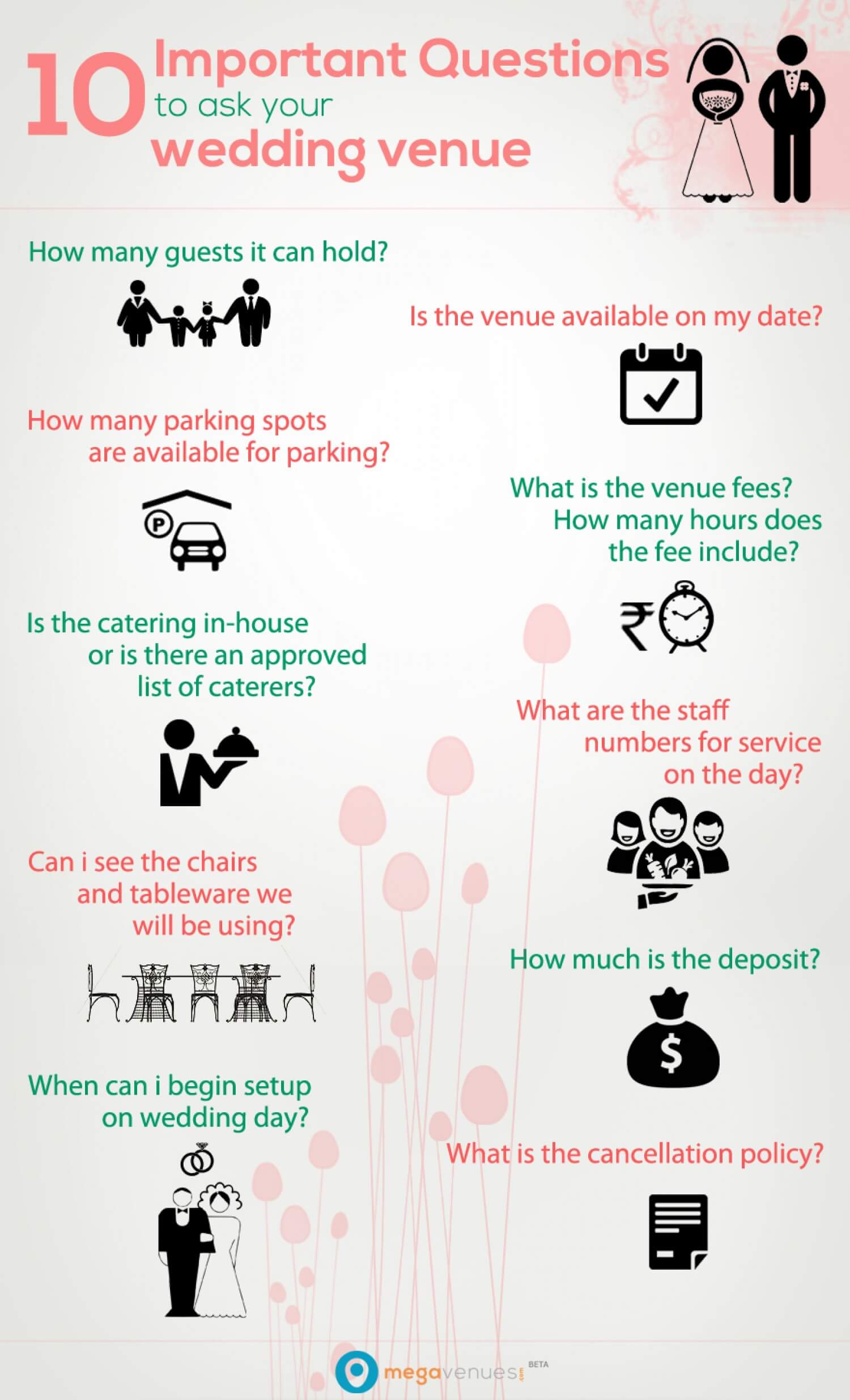 These are just some ideas to get your gears turning. Think of those frequently asked questions that you get from customers work with your designer to come up with some creative ways to give your potential clients valuable tools and information.
4. Send a handwritten thank you card to your customers after the event.
Mail a handwritten thank you card to the newly wed couple to thank them for their business and congratulate them on the wedding. You can slip your business card into the card or perhaps even send it as a package with some nice, branded goodies. Many of the catering companies my fiancee and I have met with have been through word of mouth. This idea is a great way to fuel your word of mouth advertising.
Bonus Catering Marketing Tactics for Your Business
Since originally publishing this article, I've thought of a few more ideas to share. Enjoy!


1. Turn Trash Into Treasure
Instead of throwing out leftovers that your customers don't want, donate them! There are countless nonprofits that would be happy to have your catering. In addition to building up your brand and helping those in need, you can also potentially benefit from the media sharing the story of your good deeds like with Centerplate. Sometimes it can be difficult to navigate the legalities depending on your state. Make sure you do your due diligence if you try this idea.
2. Use Google Ads to Bid on Cheap Keywords
Google Ads can be pretty expensive but there are some ways to get great deals on cheap clicks. First off, I'd recommend using only exact match keywords (not broad match keywords) if you're managing your account yourself. Second, the brand names of your competitors are going to be much cheaper than the catering keywords (pic related).

Remember Peppinos and Some Like It Hot Caterers from our GMB example? If you want to add some Pay-Per-Click (PPC) advertising to your online marketing mix, consider advertising to people looking up your competitors by name. Many of these searchers are still researching their options and this is a tactic you can use to get on their radar for 25% (or even less!) of what you'd pay if you went for the catering keywords.


What catering marketing ideas did I miss in this article?
Share your ideas, tips, and experiences below. I'm also happy to answer any questions you might have. If you run a catering company and need help with your marketing, website, or SEO please contact me for a free consultation to improve your catering marketing plan!